Sunday 24th of September, 11am session (SOLD OUT)
Saturday 23rd September (SOLD OUT)
This year, we are excited to be partnering with
Cherry Hill Orchards
to offer you a luxury themed High Tea, nestled amongst a private row of cherry blossoms. This picturesque High Tea will have you dining in style with a fully catered food and beverage package on a beautifully styled long table, a delightful fusion of sophistication and nature's charm.
This is an exclusive event, running for one day only throughout the wonderful Blossom Festival, located at Cherry Hill,
Wandin East orchard
.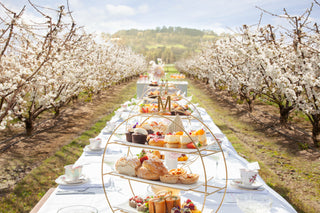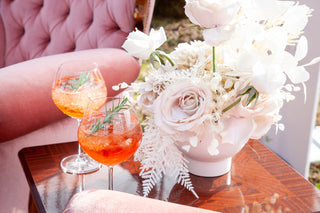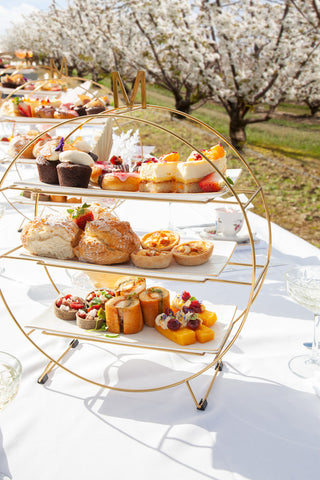 $189PP
PACKAGE INCLUDES:
Entry to the Blossom festival with views of the stunning surrounds
Cherry inspired High Tea experience (including Mary's famous fluffy scones)
Glass of French sparkling on arrival
One specialty cocktail or mocktail
Unlimited speciality teas
Cherry macaron take home gift
Long shared table adorned with flowers, vintage crockery and speciality decor
VIP lounge and private bar area (additional drinks can be purchased)
Inspired photo opportunities amongst the blossoms and festival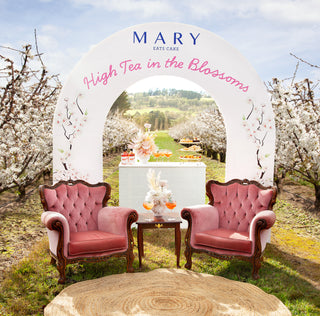 THINGS TO NOTE
There are two sittings to select from: 11am – 1pm or 2.30pm – 4.30pm (Saturday only)
Limited spots are available for this special event, we recommend booking in advance
In the event of wet weather, strong winds or any other extreme conditions, the High Tea will proceed and be hosted within a marquee on site
HIGH TEA DIETARIES
Only Vegetarian or Low Gluten dietary requirements can be catered for as an alternative to the standard menu, please indicate this upon booking
We are unable to make individual menu changes for different items.
Our products are made in a kitchen where allergens are used, and as such, we cannot guarantee that our products are completely free of all traces, especially for people who are highly sensitive or have severe allergies.
All products may contain traces of wheat/ gluten, egg, dairy, soy, peanuts, tree nuts, sesame, seeds, garlic and onion.
TERMS AND CONDITIONS
Seating is 2 hours in duration
Strictly no cancellations / no refunds

We are so excited to be partnering with Cherry Hill on this special event. CherryHill was established in 1940 when their grandfather George Riseborough planted his first cherry tree in Victoria's fertile Yarra Valley soil, and this year they are celebrating our 83rd Birthday! 80 years on, CherryHill is still a 100% Australian owned family business.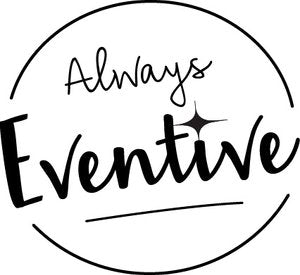 Always Eventive - Always Eventive can turn your event dreams into a reality with backdrops, couches, cake stands, decorations, rugs, personalised signage, tables and chairs. We just love working with Simone and her team to create our spectacular events!
16th September – 1st October 2023
Picnic options
From 16th September – 1st October 2023 Mary will be offering a limited range of items for pick up when you visit the Cherry Hill Blossom festival.
We have designed three bespoke picnic options for you to enjoy in the beautiful surrounds of the blossoms in Wandin. Order and collect your box on the day of your visit through the Cherry Hill Orchards website.