​​Mary Eats Cake is all about celebrating the special moments with a High Tea experience. We specialise in High Tea and value quality customer service with the goal of making every customers experience with us one they will never forget. 
Story of Mary
Mary Eats Cake was built on our founder, Jessica Hillbrick's passion and love of all things High Tea and desserts. After completing her Patisserie Diploma at Le Cordon Bleu in London, Jess returned to Melbourne to start A Little Afternoon Tea, a small High Tea catering business for private events. As the business grew Jess made the decision to take the leap and open a commercial space and change the business name to Mary Eats Cake. Opening the doors of our Brunswick venue in 2016 we quickly became one of Melbourne's most popular venues for kitchen teas, birthdays and Baby showers. 
In 2018 the business expanded, opening the charming country cottage in Montrose. Over the next few years the business grew, being featured on postcards and in an episode of Yummy Mummies. 
In 2020 the brand integrated a High Tea delivery service around Melbourne into the core offerings of the business. This delivery service is now a popular gifting and catering service known for providing quality High Tea and brunch options to those celebrating at home.
Mary Eats Cake has only grown more since 2020 to become the well known and loved brand we see today.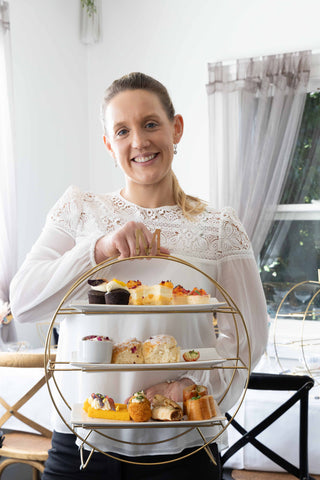 Director
Jessica Hillbrick
After working as an accountant for five years, Jessica followed her passion for pastry choosing to complete her Patisserie Diploma at Le Cordon Bleu in London and went on work in some of London's finest High Tea establishments.
Returning to Melbourne Jessica started her High Tea Catering business A little Afternoon tea for private events before opening the flagship Mary Eats Cake store in Brunswick.
Now Jessica spends her time between the two venues managing the business's 40 staff members